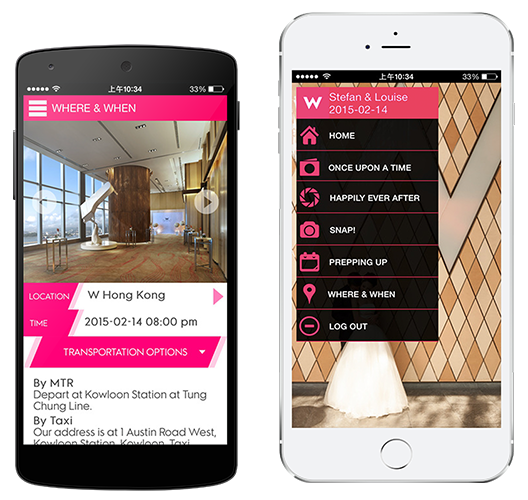 To make your big day a stellar one
---
Project
The W Hong Kong is a five-star in Hong Kong, established in 2008. The hotel boasts a stylish mix of ground-breaking modern design, contemporary comforts, lively settings and cultural influences from fashion to music.
In 2014, W Hotel planned to develop a mobile app to help Bride and Bridegroom to manage their wedding in an innovative and hassle-free way. VICOSYS was assigned to develop the iOS and Android app.
---
Solution
Our team has put themselves into the shoes of the Bride and Bridegroom in order to develop to an app which can truly facilitate the wedding management and get the relatives and friend be connected.
Bride and Bridegroom may customize the app with their gorgeous pre-wedding pictures and choose a theme to match their personality. Relatives and friends could upload infinite photos and videos that they took on the big day to the app.
The app is protected with password, you could share the joy of your wedding with relatives and friends without compromising your privacy.